PRIVATE INVESTIGATORS IN THE NEWS
RENOWNED TRIAL LAWYER F. LEE BAILY
Early in his career, Private Investigator Brandon Perron was honored to have the opportunity to work with the Legendary Trial Lawyer F. Lee Bailey. He was recently a guest speaker at an event hosted by our own high profile Attorney Richard Kibbey. Brandon and the legend reconnected. According to Brandon, "Mr. Bailey and Mr. Kibbey share similar old school high impact styles. Together, they would be the real dream team." The Perron Team of investigators have provided investigative support to Richard Kibbey for over 28 years. Rest in Peace Mr. Bailey.
In June 2018, Private Investigator Brandon Perron was presented with the Florida Association of Licensed Private Investigators Lifetime Membership Award by FALI regional director Dennis Root.
On Tuesday evening, March 20, 2018 Private Investigator Brandon Perron delivered the Alpha Phi Sigma induction ceremony speech at Indian River State College. Professor Richard Dewey and Professor Kim Massnick awarded 24 students membership for Academic Excellence. The ceremony included college administration, faculty and the families of students. Congratulations to all!
INVESTIGATOR AMY PERRON MAKES THE COVER OF PRESTIGIOUS MAGAZINE!
Amy Perron, CCDI made the cover of Stuart Magazine and an inside story discussing her experience being an professional investigator. She is a star in the field of investigation with an extensive record of success and getting things done! Amy has also demonstrated her skill set on a variety of high profile murder cases and in her leadership capacity as the Chief Investigator for the 19th Judicial Circuit Public Defender.
MORE NEWS AND PRESS COVERAGE
PRIVATE INVESTIGATOR BRANDON PERRON DELIVERED POWERFUL TRAINING TO THE 2016 FALI CONFERENCE PARTICIPANTS
Forensic Testimonial Evidence Recovery
Private Investigator Brandon Perron delivered a powerful 8 hour presentation and certification course to the 2016 Florida Association of Licensed Investigators Conference in Tampa, Florida on May 12th. The focus of the course was to introduce and certify the participant in FTER – Forensic Testimonial Evidence Recovery concepts and techniques devloped by Brandon Perron. This course builds upon and enhances the concepts of forensic investigative interviewing. The art and science of the interview is discussed from an evidentiary perspective. The theories associated with FTER - Forensic Testimonial Evidence Recovery are introduced for practical application. The nature of testimonial evidence is examined from a forensic perspective designed to recognize contamination from external and internal sources. FTER supports the theory and practice of recognizing and separating the contamination that has been introduced into testimonial evidence. Such an approach allows for clarification of testimony and enhances understanding between the witness and the interviewer.


A variety of techniques are introduced as it relates to review & analysis as well as the interview itself. In addition, the philosophy and methodology of the investigative interview is addressed as a distinct departure from the conventional police interview. FTER can be used as a tool for the identification and analysis of testimonial evidence. Furthermore, it operates as an enhancement method when combined with Visual Imagery, Kinesic, and Cognitive Interviewing Techniques. The demands of a criminal defense assignment are complex and require a deeper understanding as it relates to the recovery and documentation of testimonial evidence. The program was attended by over 80 participants. Those seeking certification as a Certified Forensic Interview in Forensic Testimonial Evidence Recovery (CFI-FTER) were required to take a test.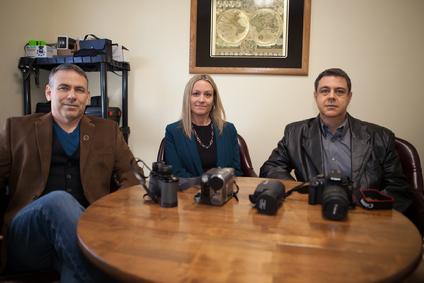 The Perron Team




ALL IN THE FAMILY: Building a Brand Name!



Brandon and Amy Perron deliver a "One-Two" punch combination when it comes to the investigative process. This high powered married team provides their own unique touch to the investigation that truly enhances the "Perron" brand. Just two? No, Sir! "All in the family" correctly describes this family business with a total of four private investigators, one technical support specialist, and one up and comer! Must be in the blood! Brother Brad is here in Florida with Brother Darin providing technical support for surveillance and undercover operations. Brandon's son Chris is now an Army Officer, Military Intelligence - Branch Detail Armor and cousin Bryan Reis is in Boston with Case In Point Investigations making a mark of his own.



The "First Family" of Private Investigation!



Click Image to Listen to Broadcast
Brandon Perron, PI Guest on National Podcast Show


Criminal Defense: A Search for the Truth
August 6, 2015
Hosted by Francie Koehler, CPI, CCDI
[Download MP3] [itunes] [Bookmark Episode]
Guest Information: Brandon A. Perron, Licensed Private Investigator
Episode Description
Have you ever wondered exactly what a criminal defense investigator does? Are you one of those people who question why people represent criminals? Are you one who wrinkles up your nose and asks, "How can you do that kind of work?" Even though much has changed in the American justice system, rights of even those who are accused of committing crimes are still protected by the United States Constitution. Daniel Dafoe said, "I hear much of people's calling out to punish the guilty. But very few are concerned to clear the innocent." There is no investigator better qualified to talk about criminal defense investigations than Brandon Perron, private investigator, criminal defense expert, author, and founder of both the Criminal Defense Investigations Training Council and the Board Certified Criminal Defense Investigator Program. Do not miss this discussion! You will not be sorry.
Please Click on the Image to Listen to the Podcast.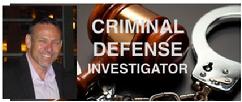 Click on Image to Listen to Lecture
Listen to Brandon's lecture from the 2015 Florida Association of Licensed Investigators Conference
Rory features Brandon Perron, an award winning nationally recognized private investigator. He is also a Board Certified Criminal Defense Investigator (CCDI), and has been qualified as an "Expert in criminal investigation" by the courts. Brandon has 29 years of investigative experience as a former U.S. Air Force Criminal Investigator, State of Florida Public Defender Investigator, government appointed civil & human rights investigator.

Private Investigator Brandon Perron checking out Little Rock
CRIMINAL DEFENSE INVESTIGATION TRAINING DELIVERED TO ARKANSAS PUBLIC DEFENDER COMMISSION
On March 19th & 20th 2015 Private Investigators Brandon Perron and Brad Perron delivered two days of intensive training to the Arkansas Public Defender Commission. The training focused upon the fundamentals of criminal defense investigation. Brandon's nationally acclaimed book UNCOVERING REASONBLE DOUBT: The Component Method was used as the foundation of the training. Participants included public defender investigators, mitigation specialists, attorneys, and contract investigators providing indigent defense services throughout the State of Arkanas. By all accounts, the training was a success. According to Brandon, "Arkansas maintains one of the most most professional investigative teams I have encountered in 30 years".
Click on image for CDITC
STUART INVESTIGATORS DELIVER TRAINING TO THE UNITED STATES MILITARY:
In 1989 Brandon Perron began his career with the United States Air Force. His training, education, and experience was born in uniform and proven within the United States Military. Twenty-nine years later he was back in Washington, DC presenting the criminal investigaiton methodoloy known as the Component Method. The Component Method, devleped by Perron in 1994, was presented to the investigative team of the U.S. Military Office of Chief Defense Counsel. The investigative team members included Air Force OSI, Army CID, Navy NCIS agents and civilian contract investigators assigned to the command. Brandon and his brother Brad provided three days of training that included Criminal Rules of Procedure, Law, Forensic Case Review & Analysis, Defendant Interviews, Crime Scenes, Impeachment Investigation, Witness Interviews, Report Writing, and Capital Crime Mitigation. By all accounts the training was a success. "It was full circle for me and I was honored to be back among my military brothers and sisters", said Brandon. "We look forward to a professional relationship with the United States Military", he added.
Brandon Perron, Author and Private Investigators

Brandon Perron Publishes Second Book in Investigative Series!

Forensic Testimonial Evidence Recovery - The FTER Method was developed as a supplement to Brandon's nationally acclaimed first book Uncovering Reasonable Doubt: The Component Method of criminal defense investigation. FTER is intended to enhance the investigative interview process by elevating the investigator's understanding of testimonial evidence as it relates to analysis, evaluation, recovery, and documentation. Testimonial evidence often becomes the primary focus in pursuit of the truth and the development of a sound defense theory. Therefore, the CDI as a professional criminal investigator must understand the evolutionary process of testimonial evidence and the manner in which it becomes fact and ultimately introduced as evidence. This is a must read for the professional criminal defense investigator. Copyright Brandon A. Perron, 1998, Morris Publishing, Kearny, NE, USA.
Contents -
Introduction,
The Truth Seeker and Agent of Counsel, The Component Method of Criminal Investigation,
History of Interviewing / Ethical Considerations,
Interviewing:

Art of Science?
FTER: Forensic Testimonial Evidence Recovery,
Strategic Applications,
Critical Thinking & The Nature of Truth,
The Anatomy of a Lie,
The Elements of Testimonial Evidence,
Preparation & Planning,
Conducting the Interview,
Advanced Interviewing Techniques,
The Defendant Interview.


Special Advanced Purchase: Limited Quantity - Paperback, 98 page, copyright Brandon Perron 2011, Morris Publishing Press. Call 1-800-465-5233 or visit www.CDITCTraining.com to order a personalized autographed copy.
Cost: $ 30.00 plus $ 5.00 Shipping & Handling.
Brandon Perron Featured Speaker at the annual FPDA LIFE OVER DEATH Conference in Orlando.

Private Investigator Brandon A. Perron, CCDI provided a compelling training program at the distinguished Florida Public Defender Association's LIFE OVER DEATH conference. The program was held September 7-10, 2011 in Orlando, Florida at the Lake Buena Vista Hilton, Downtown Disney. Brandon's program was titled, "Basic & Unorthodox Investigative Strategies". It was well attended and received the highest ratings for the Investigator Track. The focus of the training was upon the issues associated with 1st Degree Murder Investigations involving the Death Penalty. Brandon continues to maintain a working relationship with the Florida Public Defender Association training division as well as Public Defender Agencies across the United States.
Brandon A. Perron, CCDI was a guest speaker at the
The South Carolina Association
of Licensed Investigators Educational Conference.

***************************
The conference was held on May 5-6-7, 2011 at the Hilton Hotel, Kingston Plantation, Myrtle Beach, SC. The 2-hour lecture focused upon the Fundamentals of Criminal Defense Investigation. By all accounts the presentation was a success. The entire Educational Conference presented by SCALI was a first class event. The event is held annually at different locations throughout the State of South Carolina.

Brandon Perron Delivers




Presentation on Beacon Hill!



Boston's prestigious Beacon Hill has often been referred to as the birthplace of American Liberty. Brandon Perron had the honor of leading a panel of investigative experts in a presentation before the Boston Bar Association. The program was delivered on

Thursday, March 17, 2011

12:30 PM to 1:30 PM, at the

Boston Bar Association - 16 Beacon Street, Boston, MA. It was well attended by many of Boston's finest attorneys.




How to Choose, Use, and Stay Out of Trouble with Private Investigators
Description:
Whether defending a criminal case or prosecuting civil litigation, engaging a private investigator is often necessary and vital to your case. Our panel of professional investigators and an attorney experienced in the use of investigations in litigation will guide you through the considerations of selecting an investigator, how effective use of an investigator can be an essential component of you practice and, most importantly, the legal and ethical considerations to be aware of when using investigators.
Sponsoring Section/Committee(s):
MODERATOR:
Brandon Perron
-
The Criminal Defense Investigation Training Council

PANEL MEMBERS:
Thomas Luongo -Case In Point Investigations, Inc.
Peter Carl - Case In Point Investigations, Inc.
Dan Collins - Case In Point Investigations, Inc.
Michael D. Ricciuti -K & L Gates LLP - Suffolk Law School Professor
AUTHOR! AUTHOR!

Now in print by Brandon A. Perron. The Quest for Truth: The Allegorical Journey of Youngblood Hawke - Poet, Philosopher, Soldier of Fortune, and Professional Adventurer. Who better to address the philosophical nature of truth with an added action component? Indeed. In the spirit of Lord of the Rings, Brandon Perron renders an action packed tale of the truth seeker's struggle. The book is in many ways an auto-biography reflecting the authors own "Quest for Truth" and the obstacles he continues to encounter on his journey as an investigator and truth seeker. The novel details one warrior's personal journey as it becomes a spiritual and philosophical quest for humanity when the enemies of truth decide he is a danger to their existence. Available in paperback and hardcover.

Available for Speaking Engagements!

To order an autographed copy
call 1-800-465-5233
or visit http://www.iuniverse.com/Bookstore/BookDetail.aspx?BookId=SKU-000018836




CLICK HERE TO READ BOOK REVIEW
THE NEW ENGLAND CONNECTION: Case In Point's Strategic Operations Director.

Boston, MA and Manchester, NH

Brandon A. Perron, CCDI is the organization's Strategic Operations Director. One of Mr. Perron's responsibilities is to provide management support, direction and training for CIP's Criminal Investigations Division. The Criminal Division consists of two field investigation teams and an operations manager. The CIP Criminal Division provides support to New England attorneys with an emphasis upon the greater Metropolitan Boston area. In addition, Mr. Perron directs the Major Crimes Investigation Team (MCI). The team approaches homicides, sex crimes, and all major case assignments from a strategic perspective designed to develop winning strategies on behalf of those who have been falsely accused. The MCI also works with the Mr. Perron's Special Operations Unit which is based in Florida on a variety of assignments involving interstate activity. Visit www.CIPNow.com

Case In Point Investigations maintains a leadership position in the area of criminal and claims investigation with corporate offices in New England and franchise offices in Florida.




Case In Point CEO Peter Carl and Brandon Perron, CCDI at the Boston Bar Association on Beacon Hill in Boston.
Brother Team Recognized for Leadership!

Professional Investigators Brandon and Brad Perron have been a team since the early 1990's. Brad joined his brother's agency and added a forensic science component to the mix. The dynamic duo has been providing their investigative expertise through application and training on a national level for many years. The Florida Board of Certified Investigators, Inc. presented them with the 2005 John M. Russi Award of Excellence for distinguished service in the arena of educational advancement within the Private Investigation profession. Both Brandon and Brad were presented with awards for "Raising the standard of private sector investigations in the State of Florida".




Brad Perron Accepts the 2005 John. M. Russi AWARD OF EXCELLENCE
Nationally Recognized Award Winning Private Investigators