Award Winning Private Investigation Team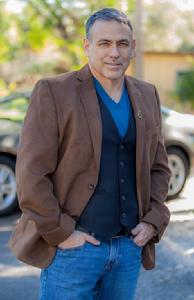 Investigations Director
Brandon A. Perron, LPI, CCDI, CFI-FTER
Director of Investigations

Brandon A. Perron, CCDI, CFI-FTER is an award winning nationally recognized private investigator. Brandon and his seasoned team of investigators are available for all types and phases of investigative assignments. He is a Board Certified Criminal Defense Investigator (CCDI) and has been qualified as an "Expert in criminal investigation" by the courts. Brandon has 36 years of investigative experience as a former U.S. Air Force Criminal Investigator, State of Florida Public Defender Investigator, government appointed civil & human rights investigator, and Florida licensed private investigator. He is recognized as one of the nation's foremost private investigators and trainers, consultants, and speakers in the area of criminal defense investigation providing his investigative expertise to government agencies and the United States Military. In addition, Brandon has authored the professionally acclaimed book Uncovering Reasonable Doubt: The Component Method - A Guide for the Criminal Defense Investigator as well FTER - Forensic Testimonial Evidence Recovery.

AWARDS AND COMMENDATIONS:

- 1986 The United States Air Force "Exceptionally Well Qualified Quality Control Rating" as an Investigator.

- 1988 The United States Air Force Certificate of Recognition "for Outstanding Performance".

- 1989 The United States Air Force Commendation Medal for "crime solving ability".

- 1995 St. Lucie County Sheriff's Office Distinguished Service Award "for an outstanding act, achievement or exceptional services related to the ideals of law enforcement."

- 1998 named one of the "Top 10 Private Investigators in the United States" by PI Magazine.

- 1999 presented with the "Most Dynamic Speaker Award" by The National Association of Investigative Specialists (NAIS).

- 2002 Public Advocate Award presented by the Kentucky Department of Public Advocacy for "work in bringing the highest standard of professionalism and excellence to DPA investigators".

- 2003 and 2004 National Association of Investigative Specialists (NAIS) "Investigator of the Year" .

- 2005 he received the John M. Russi Award of Excellence from the Florida Board of Certified Investigators for "raising the standard of Private Sector Investigations".

Brandon Perron earned an A.S. and B.S. Degree in Criminal Justice Administration and has graduated from numerous military and civilian advanced investigative training schools and programs. He also maintains Investigative Consulting and Director positions with a government agencies. A Curriculum Vitae is available upon request.

Brandon Perron actually "wrote the book" on Criminal Defense Investigation!
Brad Perron, CCDI, CFSI
Lead Investigator/Forensic Science Investigator

Brad Perron, CCDI, CFI-FTER, delivers 30 years of experience in the area of investigation and forensic science consulting. Brad has earned the designation of Board Certified Criminal Defense Investigator, Certified Forensic Science Investigator, Certified Forensic Interviewer - FTER Method, and maintains his status as a Florida Licensed Private Investigator. He has successfully closed thousands of cases during his career by applying a combination of logic and reasoning that allows for creative and critical thinking. Brad is a member of mensa - the high IQ society and earned his B.S. Degree in a Biological Science from Roger Williams University. His expertise is in the area of Bloodstain Detection and Interpretation at the crime scene and he has been recognized by the courts as an "Expert". Brad's expertise in the area of forensic science allows him to pursue a broad range of issues associated with the question of guilt or innocence. In 2005 he was awarded the John M. Russi Award of Excellence by the Florida Board of Certified Investigators. Brad was also presented with a National CDITC Field Commendation Award for outstanding investigative performance.




Brad Perron, CCDI, CFSI
Amy M. Perron, CCDI, CPS
Licensed Private Investigator

Amy M. Perron, CCDI, CFI-FTER, is a Florida licensed private investigator and seasoned veteran with over 19 years of experience conducting criminal and civil investigations on behalf of government agencies, law firms, corporations, and private individuals. She has earned the nationally recognized designation of Board Certified Criminal Defense Investigator and was awarded two National CDITC Field Commendation Awards for outstanding performance as a criminal investigator. Amy is an "Expert" in the area of background and impeachment investigations and records retrieval. She has also earned a reputation as an undercover and surveillance specialist. Her talents as a field operative are applied on all assignments that require her unique brand of expertise and experience including homicide investigations and mitigation support on death penalty cases. She maintains a position as the Chief Investigator and lead Death Penalty Mitigation Specialist for the 19th Judicial Circuit Public Defender. Amy has a degree in Criminal Justice from Indian River State College and has graduated from numerous advanced training programs within the discipline of criminal investigation. Member: NLADA - National Legal Aid and Defender Association/Mitigation Specialist. Member: National Defender Investigator Association. Member: Criminal Defense Investigation Training Council/Board Certified.





Amy Perron, CCDI, CFI-FTER
Professional Investigative Staff - Our field Investigators are Honor Graduates of the Public Defender Investigator Training Program, 19th Judicial Circuit, State of Florida including a recipient of Investigator of the Year Award. Their expertise focuses upon criminal investigation, surveillance and anti-stalking counter-measures. Our staff also includes decorated veterans of the United States Air Force and the United States Navy.
Nationally Recognized Award Winning Private Investigators
Web Hosting powered by Network Solutions®